Are you ready to create some delicious elderflower cordial at home, then this is the step by step guide you need. This recipe is more like a lemonade, with a touch of elderflower.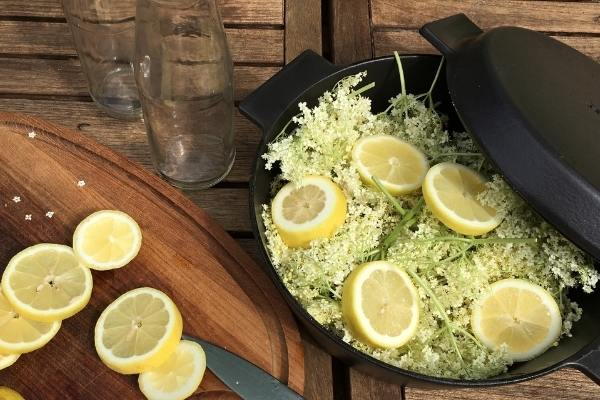 Elderflower cordial is one of the must makes of summer. It's one of the first things that grow here that you can make cordial from. To me elderflower cordial is the taste of summer. I can almost hear the bees humming when I pour a glass on a cold winter day.
Our kids love to be part of the process of making this and it's a very easy recipe that will allow anyone to join in. They can do anything from collecting the flower heads to cutting them up to get ready for the cordial and everything in between.
We make this cordial once during the summer and it lasts us a few weeks. When we have a lot of flower heads we use the rest of them for our elderflower pancakes – they are great over fire on those long summer nights. Another favorite recipe of ours is the elderflower vinegar – you can find that recipe here.
For this recipe you will need: A big heatproof container with an airtight lid. Something like this one off amazon would do wonderful, but feel free to use what you have. A solid strainer – I use one like this. And then a cold place to store it while it sets.
Here is the simplest and best recipe (in my own humble opinion) for concentrated elderflower cordial.
How to make elderflower cordial
We started by finding about 30 big heads of elderflowers. Go for the ones with the most flowers. You want them to be white and unfolded, and now brown – the brown ones are already on their way to becoming elderberries.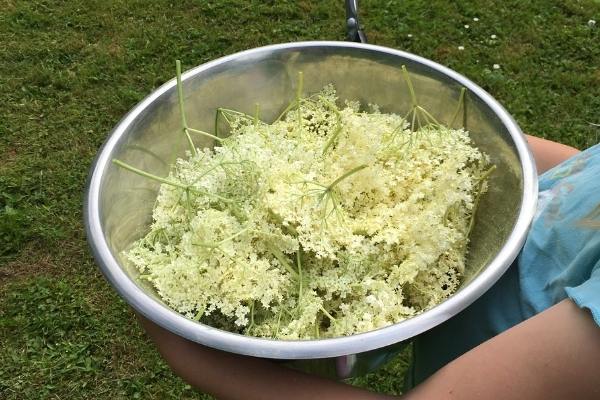 Shake the stems well so that you remove most of the little bugs that live in them. Keep in mind that most of the flavor lives in the yellow powder that sits on the flowers, and you don't want to remove to much of that.
Cut the elderflowers, just above the flowers, removing most of the green stem.
Add the elderflowers to a big heat resilient container with a lid – add organic lemons. Add the citric acid and sugar to the container. Poor over the boiling water and stir well.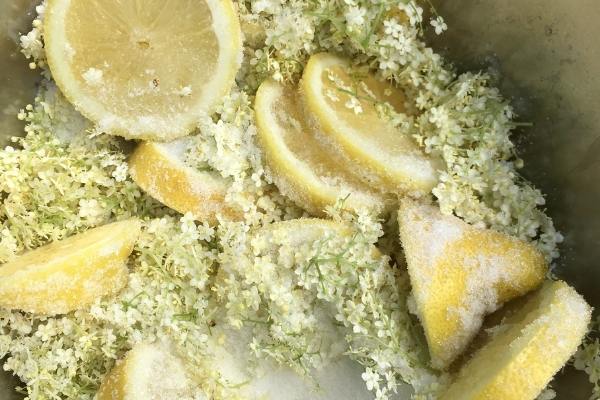 Leave the cordial in a cold, dark place for 2-3 days.
Sift the liquid through a strainer, lined with cloth, to get everything out of the cordial.
Poor the liquid into rinsed bottles for safe keeping.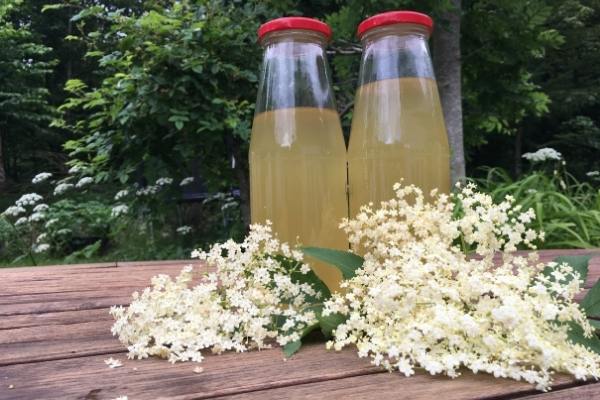 This will keep for a few months when its stored cold, but ours never lasts that long 🙂