A hygge homestead may earn a commission for purchases made after clicking links on this page.
Learn More.
In the following you will learn how to make delicious filling homemade pizza dough. You will know how to make a base of the pizza that wins everytime. You will be able to put your favorite toppings on this pizza dough, and it will be brilliant for family gathering, or just a Friday night in.
Homemade pizza is one of our go to dinners. Everyone has their own favorite topping, and its easy, simple and cheap to have individual pizzas for all.
Simple homemade pizza dough
One of the things that makes this pizza special is the light crust. Its a fast rising solution, that only needs to rise for about an hour. You can make pizza dough where you leave it overnight, then just just need very little yeast.
For me its not possible to create this pizza dough without a mixer. You can probably do it, if you are really strong, or if you just want a brilliant work out. You need to knead this dough for about 20 minutes, before its ready to rest.
You might also like: Beginners guide to making bread
Quick pizza dough
This recipe is made with more yeast, to ensure that you can go from having nothing done to finished pizza in about 3 hours. Yes I know thats slower than calling in a pizza, but the result is so much better as well.

Start by adding yeast, salt and water to the mixing bowl. Stir them together well, until the yeast is completely dissolved in the water.

Add half the flour while having the mixer on low. Add the oil to the mix, and stir it until its worked in. Then slowly add the rest of the flour. Then leave the mixer to stir it on high for about 10 minutes.
Leave it to raise on your table for about an hour until it doubles in size.
Beat out the air in the dough, and divide the dough into 6 pieces – I love using my dough scraper for this. Roll each piece of dough out, and add topping to your liking.
Suggestions for topping could be:
Tomato sauce, Pepperoni and cheese
Tomato sauce, thinly sliced potatoes, rosemary and cheese
Tomato sauce, ham, peppers and cheese.
Find your favorite topping and go to town. It is easier to get the kids to eat their pizza if they are involved in the making of them.
Baking Pizza on a Pizza Stone
One of the things that make our pizzas extra special is the fact that we have a pizza stone. This is one of the things that I use a lot, not only for pizza but for breads as well. When I make pizzas I actually have two stones in the oven – a square one and a round one.
The main thing about being successful when baking with a pizza stone, is the temperature. I always bake pizza on as high as the oven will go. I put the stones in the oven when its cold, and I heat them slowly as the oven heats up. I then leave them at the high temperature for about 20-30 minutes after the oven is hot enough, to make sure that the stone is very warm and ready for baking pizzas.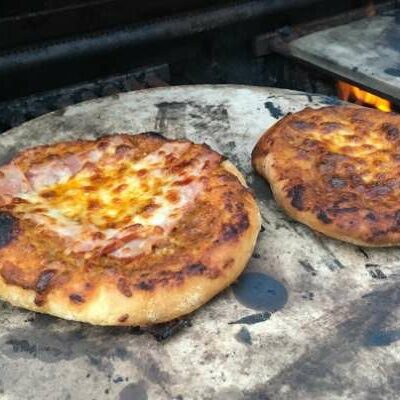 Homemade pizza dough
A simple pizza dough that will be ready in a couple of hours
Ingredients
2,5

cups

water

7

tbsp

Olive oil

1

tbsp

salt

8

cups

flour

high protein flour like tipo 00 or similar

1

packet

dry yeast

11g (about 2 tsp)
Instructions
Add yeast, salt and water to a mixer.

Mix for about 5 minutes untill the yeast is activated

add olive oil and 7 cups of flour

Leave the mixer on a medium speed for the first 5 minutes, and then turn up the speed for for the next 10 minutes. Slowly add the last cup of flour if needed.

TIP: 3 cups of flour can be wholemeal flour for a more filling pizza dough
Let me know what you like most about homemade pizza!