A hygge homestead may earn a commission for purchases made after clicking links on this page.
Learn More.
Rose hips are one of those plants that once you start seeing it, you will find it everywhere. In the following you will find out how to make rose hip powder for yourself, and your family.
Rose Hips have a great taste and is great in jams or ketchup. But did you know that you can make it into a powder that is really great at preserving the vitamin C to use it during the winter. Not only does it taste well, it also have different benefits to your health. Initial studies are being conducted for its affects on arthritis – though if you ask any of the elderly in my family, this have been know for centuries.
According to webMD Rose hips contains all sorts of goodness, and it seems to have anti inflamatory properties. While most people are completely safe to eat rose hips, do consult with your own doctor if you have any medical conditions.
We use rose hip powder as a tea, as a sirup or as a sprinke of vitamin c on a salat or in the salat dressing. I occasionally add rosehips to my bread rolls to give it a kick of vitamin C without anyone noticing.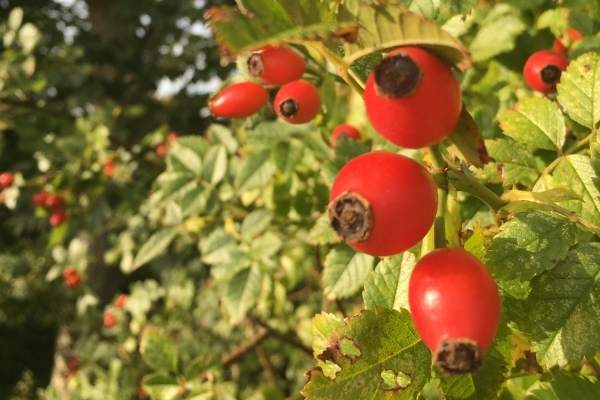 How to make rose hip powder
Making rose hip powder is surprisingly easy. Some studies have shown that to contain the vitamin C in the rose hip powder you need to dry it at as low temperature as you can. My dehydrator (I have this one and I absolutely love it) can set the temperature really low, and that was essential for drying the rosehips at a low temperature.
Essesntially you need – rose hips, a dehydrator, and then a coffee grinder to make it into powder for you.
Step one
Go foraging for rose hips. They are everywhere in the fall, but do make sure that you pick them in a place where you are allowed to pick them, and in a spot that is not next to a heavy traffic road. The heavy traffic would leave not wanted toxins on the rose hips, and we don't want that.
Step two.
Bring the rose hips home and give them a good rinse.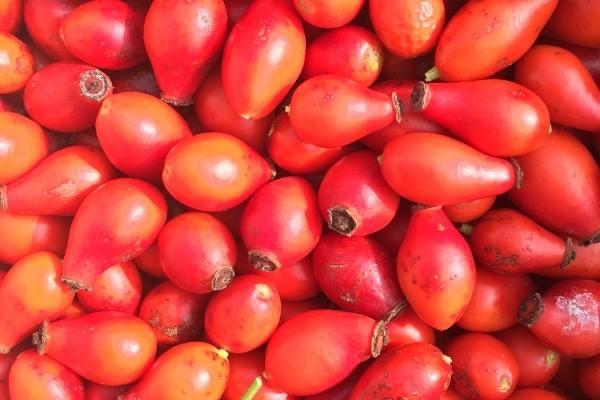 Step three
Devide the rosehips into pieces. You will want to wear gloves for this step. The middle of the rose hips can be very itchy (Ask me how I know!) Alternatively you can add them to a blender with some water and lightly blend them – then just add them through a strainer to remove the water.
Step four
Dry the rose hips in a dehydrator overnight (I left mine about 10 hours, but you want to check your own dehydrator). I left it at no more than 95F (35 celtious) for the entire time, to try and perserve the vitamin C in the finished powder.
Step five.
Once the rose hips are completely dry (Completely!) you can add them to a coffee grinder or a blender to create a powder. Be aware that your blender can become very hot, and you want to do a little powder at a time.
FAQ about Rose hips
How do you harvest and dry rose hips.
We were lucky enough that they grow in the forest where we live, and next to houses of loved ones. They are fairly easy to pick off the branches and gather indoors. Once you have harvested them, use the method above to dry them out. Always be mindful of the powder inside the rose hips as that is very itchy.
How do you make tea with rose hips?
Rose hip tea is made from the full rose hip bulb, that are put into hot water and set to add the flavor. You can find a full recipe for rose hip tea here.
Is Rosehip an anti inflammatory?
While there are no formal studies on this, quite a few of the indications is that, yes, it is. And if you ask my mother about it, then yes it is. The question if rosehips will work for you, that is another story, and something you will need to test for yourself.
What are dried rose hips used for?
I use the dried rose hips as a sprinkle on yoghurt, and ass an added ingredient in my homemade ketchup. You can use it for tea, as above, or to make jam. One of the benefits of having the powder like this is that the way its dried it will keep most of the vitamin C and added benefits. That is mainly why I prefer to use the power like it is.